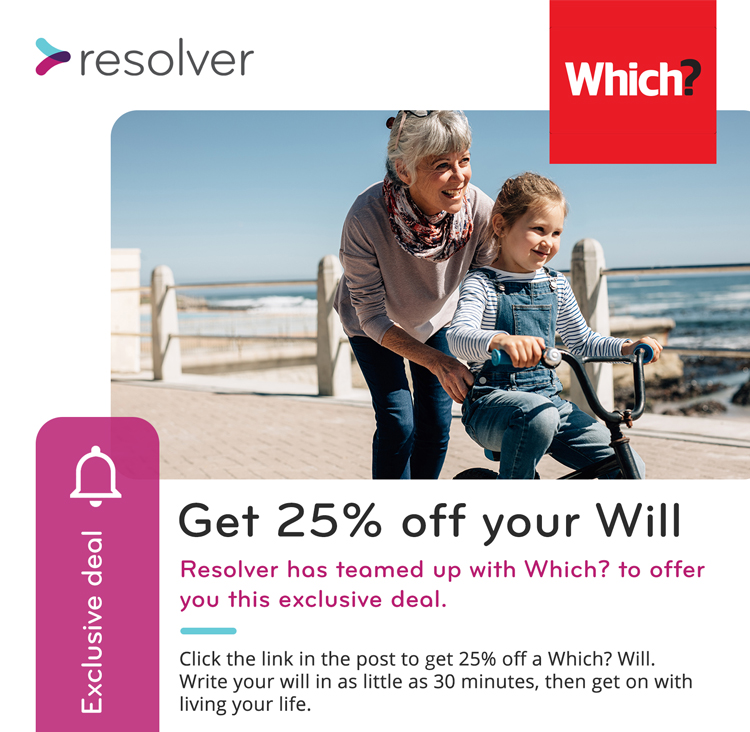 Exclusive 25% saving with Which?
Making a will is vitally important, yet for understandable reasons many people avoid doing so. Research consistently shows that 60% of adults don't have a will in place – an extraordinary 31 million people.
That's why Resolver has teamed up with Which? Wills, part of the Which? Group, and their simple and cost-effective service to help people find the will that works for them.
Resolver's users receive 25% off – part of our range of services to help people save money and beat the cost-of-living crisis.
Just by answering a few simple questions, Which? Wills can help people begin the process of creating a will, while finding the service that works specifically for their needs, cheaply and effectively. Self Service wills start from just £74.25, or a full review is available from those who need more support.
The unique landing page for the offer is here:
One of the main reasons cited by people for not making wills is the perception of prohibitively high costs. Which? Wills simplifies the process of making a legally binding will without the need for solicitors costs – and there is a team on hand to help people through the process.
Why make a will?
Some of the most difficult and entrenched complaints that Resolver sees involve the estates of people who had died without writing a will. In the absence of any definitive guidance about what the deceased wanted, it can be extremely difficult and distressing for people trying to sort out the estate of a loved one.
If there's no will, then the rules of intestacy apply, which set out who inherits what. These may not reflect what the deceased may have wanted, and can lead to disputes among the people who inherit over what happens to the estate.
If you're unmarried, you need a will if you want your partner to inherit some or all of your estate – including civil partnerships that haven't been registered. Wills are also vital for clarifying vital decisions, like childcare for those aged under 18.
There are some tax advantages to estate planning through your will. Even if you don't have savings and investments, if you own your property, you can make inheritance tax provisions in your will for your children.
Notes to editors
Resolver: facts and figures
Since our website, www.resolver.co.uk launched in 2012, we've helped sort out over seven million complaints and claims.
Over four million people are registered users of Resolver.
There were 15 million visits to Resolver's website last year.
200 separate products and sectors – from pensions to parking tickets – are represented on our website. We're able to provide you with detailed information and insight on every business sector in the UK and what people are complaining about.
Our four million users are asked how they feel about their complaint throughout the process giving us the single biggest dataset on how businesses handle, manage and resolve complaints – and how satisfied (or not) their customers are.
 All about Resolver
Resolver is an entirely free service created to help people make complaints about a range of services quickly and direct to the business. Find out more: www.resolver.co.uk/
Resolver works by helping people make complaints or raise concerns simply, quickly and effectively. It's possible to make a complaint with just a few clicks in a few minutes.
Resolver works with leading regulators, Ombudsmen, Government bodies, and businesses big and small to help them deal with complaints effectively. The Resolver Group also creates tailored software to help businesses and organisations manage complaints.
Our all-new range of business services – designed to help businesses resolve complaints and gain greater insight from customer feedback have now been launched.
All about Which? Wills
Which? Wills aims to provide a journey that guides customers with confidence and ease to make the right choices for them when creating their wills and powers of attorney.
Its online will writing and document creation services make writing your will or preparing  power of attorney quick and easy, and can often be done in as little as 30 mins. 
Over 15,000 people use Which? Wills each year to write, review and even register their will. And being part of the Which? group, a not-for-profit charitable organisation, all our customers help to support the activities of the Which? group, in protecting consumers and making their lives simpler, fairer and safer.