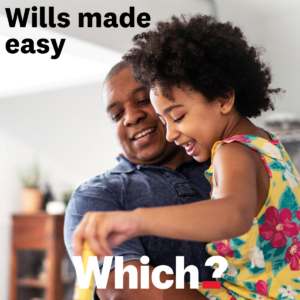 Exclusive 30% saving on Power Of Attorney Service from Which?
A Power of Attorney is important to have in place if you wish for someone to act on your behalf for both financial and medical decisions, it is important to note that a power of attorney can only be set up whilst you still have the ability to make decisions for yourself, therefore it is worthwhile putting it in place early on.
That's why Resolver has teamed up with Which?, part of the Which? Group, and their simple and cost-effective service to help people find the power of attorney that works for them, offering a Which? discount of 30%.
Resolver's users receive 30% off – part of our range of services to help people save money and beat the cost-of-living crisis.
Just by answering a few simple questions, Which? can help begin the process of creating a power of attorney either for just you or for you and your partner. lndividual power of attorneys start from just £97, or for you and your partner from £194.50 – both included in our Which? Wills power of attorney discount exclusive.
The unique landing page for the offer is here:
Why do I need a power of attorney?
A power of attorney allows someone of your choosing to make important medical and financial decisions when you are unfortunately no longer able to make such decisions. You can have peace of mind that someone that you trust is in charge of your affairs.
 In the absence of a power of attorney, it can lead to complications should you or a loved one have difficulty looking after your own finances or need care or support to be organised in the future.
By having a power of attorney organised, it will give both you and your family members peace of mind, rather than leaving it to the point where it may be too late.
What types of power of attorney are there?
Property and financial affairs
This gives your attorney the power to make decisions about your money and property, including:
managing bank or building society accounts
paying bills
collecting a pension or benefits
if necessary, selling your home.
Health and welfare
This gives your attorney the power to make decisions about:
your daily routine (washing, dressing, eating)
medical care
moving into a care home
life-sustaining medical treatment.
Don't leave it too late! Get in touch to receive your Which? Wills power of attorney discount of 30% today!