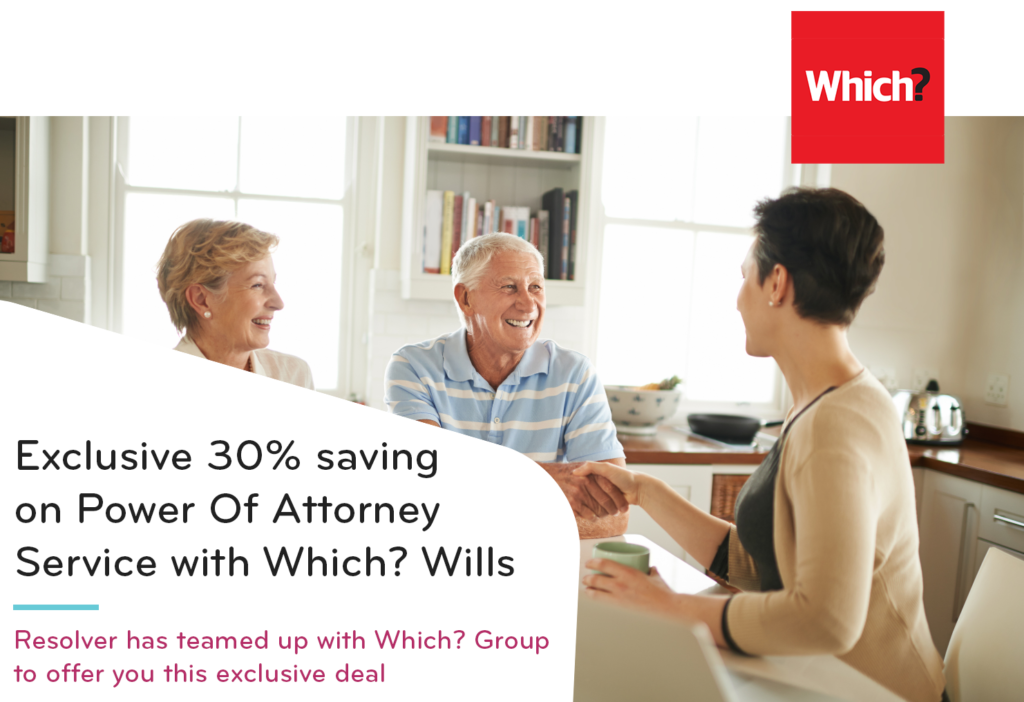 Exclusive 30% saving on Power Of Attorney Service with Which? Wills
A Power of Attorney is important to have in place if you wish for someone to act on your behalf for both financial and medical decisions, it is important to note that a power of attorney can only be set up whilst you still have the ability to make decisions for yourself, therefore it is worthwhile putting it in place early on.
That's why Resolver has teamed up with Which? Wills, part of the Which? Group, and their simple and cost-effective service to help people find the power of attorney that works for them, offering a Which? Wills discount of 30%.
Resolver's users receive 30% off – part of our range of services to help people save money and beat the cost-of-living crisis.
Just by answering a few simple questions, Which? Wills can help begin the process of creating a power of attorney either for just you or for you and your partner. lndividual power of attorneys start from just £97, or for you and your partner from £194.50 – both included in our Which? Wills power of attorney discount exclusive.
The unique landing page for the offer is here:
Why do I need a power of attorney?
A power of attorney allows someone of your choosing to make important medical and financial decisions when you are unfortunately no longer able to make such decisions. You can have peace of mind that someone that you trust is in charge of your affairs.
 In the absence of a power of attorney, it can lead to complications should you or a loved one have difficulty looking after your own finances or need care or support to be organised in the future.
By having a power of attorney organised, it will give both you and your family members peace of mind, rather than leaving it to the point where it may be too late.
What types of power of attorney are there?
Property and financial affairs
This gives your attorney the power to make decisions about your money and property, including:
managing bank or building society accounts
paying bills
collecting a pension or benefits
if necessary, selling your home.
Health and welfare
This gives your attorney the power to make decisions about:
your daily routine (washing, dressing, eating)
medical care
moving into a care home
life-sustaining medical treatment.
Don't leave it too late! Get in touch to receive your Which? Wills power of attorney discount of 30% today!
Notes to editors
All about Resolver
Resolver is an entirely free service created to help people make complaints about a range of services quickly and direct to the business. Find out more: www.resolver.co.uk/
Resolver works by helping people make complaints or raise concerns simply, quickly and effectively. It's possible to make a complaint with just a few clicks in a few minutes.
Resolver works with leading regulators, Ombudsmen, Government bodies, and businesses big and small to help them deal with complaints effectively. The Resolver Group also creates tailored software to help businesses and organisations manage complaints.
Our all-new range of business services – designed to help businesses resolve complaints and gain greater insight from customer feedback have now been launched.
All about Which? Wills
Which? Wills aims to provide a journey that guides customers with confidence and ease to make the right choices for them when creating their wills and powers of attorney.
Its online will writing and document creation services make writing your will or preparing  power of attorney quick and easy, and can often be done in as little as 30 mins. 
Over 15,000 people use Which? Wills each year to write, review and even register their will. And being part of the Which? group, a not-for-profit charitable organisation, all our customers help to support the activities of the Which? group, in protecting consumers and making their lives simpler, fairer and safer.

Want to know how else Resolver Money Saver can help you today? Why not check out our insurance comparison page to see how you could save money today.